Regular price
Rs. 898.00
Sale price
Rs. 799.00
Unit price
per
11% OFF
Sold out
Get 10% off Use Code: PAWSOME
Subscribe for monthly delivery and get upto 35% off
Introducing the Papa Pawsome "Itch and Tick Buster Kit," your pet's ultimate companion for a happy, itch-free, and tick-safe life. This powerful kit combines two of our best-selling products to provide your furry friend with comprehensive care. With the "Itch and Tick Buster Kit," you'll also receive a complimentary pet-friendly ball worth Rs. 150, ensuring endless playtime and joy for your beloved companion.
Take the proactive approach to pet care and choose Papa Pawsome's "Itch and Tick Buster Kit" today. Your pet deserves the best, and we're here to deliver it.
Itch and Tick Buster Kit contains: 

Itch No More Shampoo with Conditioner - 250 ml 
Tick Off Waterless Shampoo - 250 ml 

MRP - Rs 898
Special Price- Rs 799 + Free Rope Ball 
Itch and Tick Buster Kit helps in: 
Relieves Itching: "Itch No More Shampoo" alleviates itching caused by allergies, insect bites, and skin irritations, promoting a comfortable and happy pet.
Tick Protection: "Tick Off Waterless Shampoo" provides a strong defense against ticks, ensuring your pet remains tick-free and healthy.
Convenient Care: With the waterless format, you can easily maintain your pet's hygiene without the need for traditional bathing.
Beautiful Coat: Both products leave your pet's coat clean, soft, and lustrous, enhancing their overall appearance.
Benefits Itch No More Shampoo with Conditioner 
All-natural body wash provides the ultimate cleansing and spa experience to your pet, nourishing the coat making it shiny and healthy.
Guards your dog against rashes, infections, and itches while keeping the ticks and fleas away.
Enriched with the therapeutic properties of natural essential oils to help soothe your pet and provide premium body care without any after-effects.
SLS and Paraben-free formulation with no artificial surfactants resulting in less lather, with no compromise on quality.
Benefits Tick Off Waterless Shampoo 
The perfect mess-free and hassle-free solution for your dog's effective cleansing.
Dual purpose waterless shampoo effectively keeps dogs clean and free from ticks and fleas.
Specially formulated with 100% natural ingredients to exude a soothing aroma and help settle stress and anxiety
View full details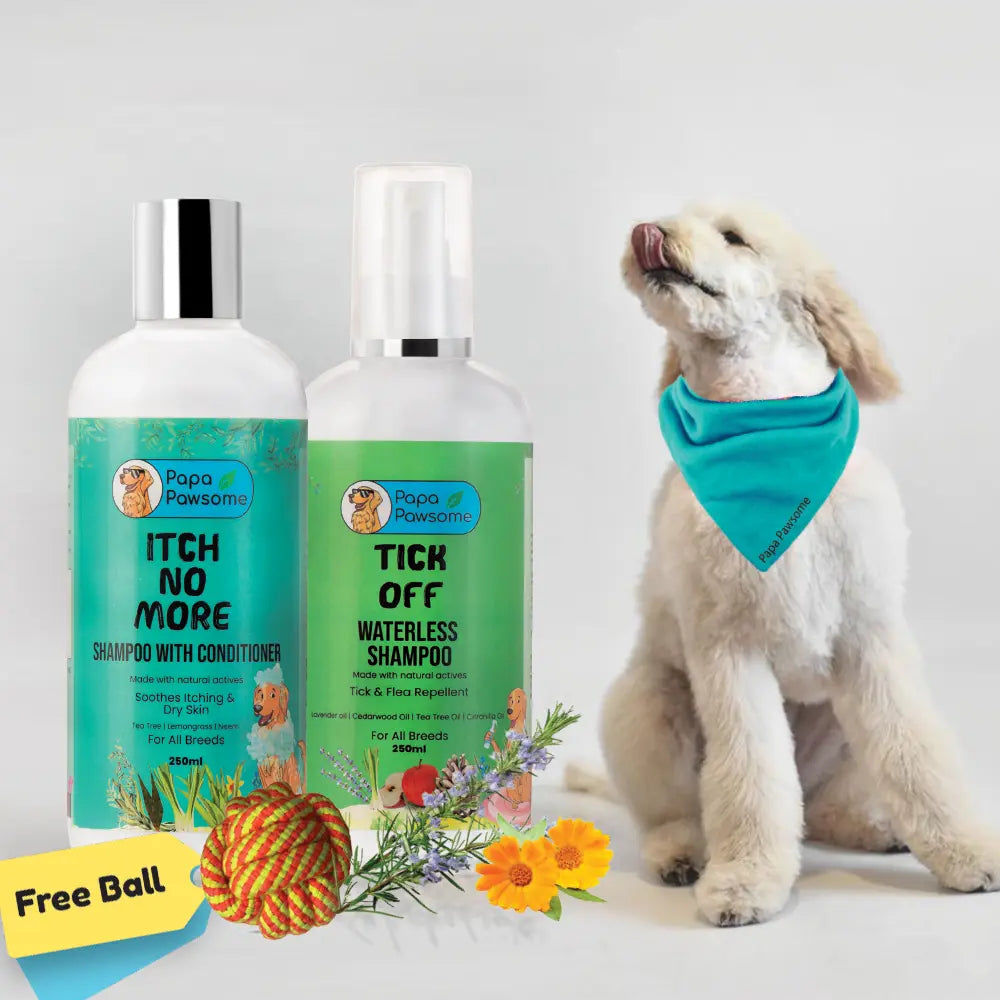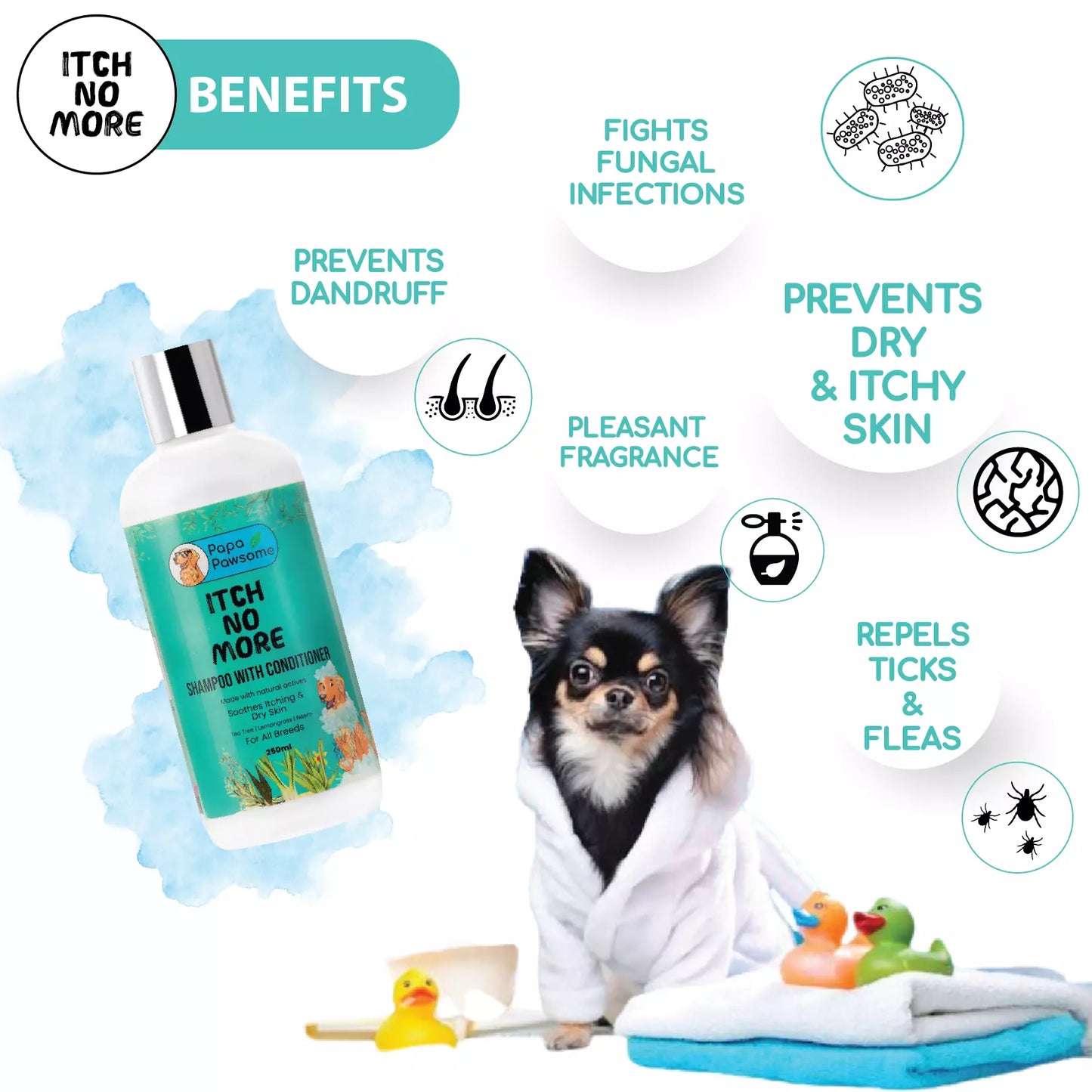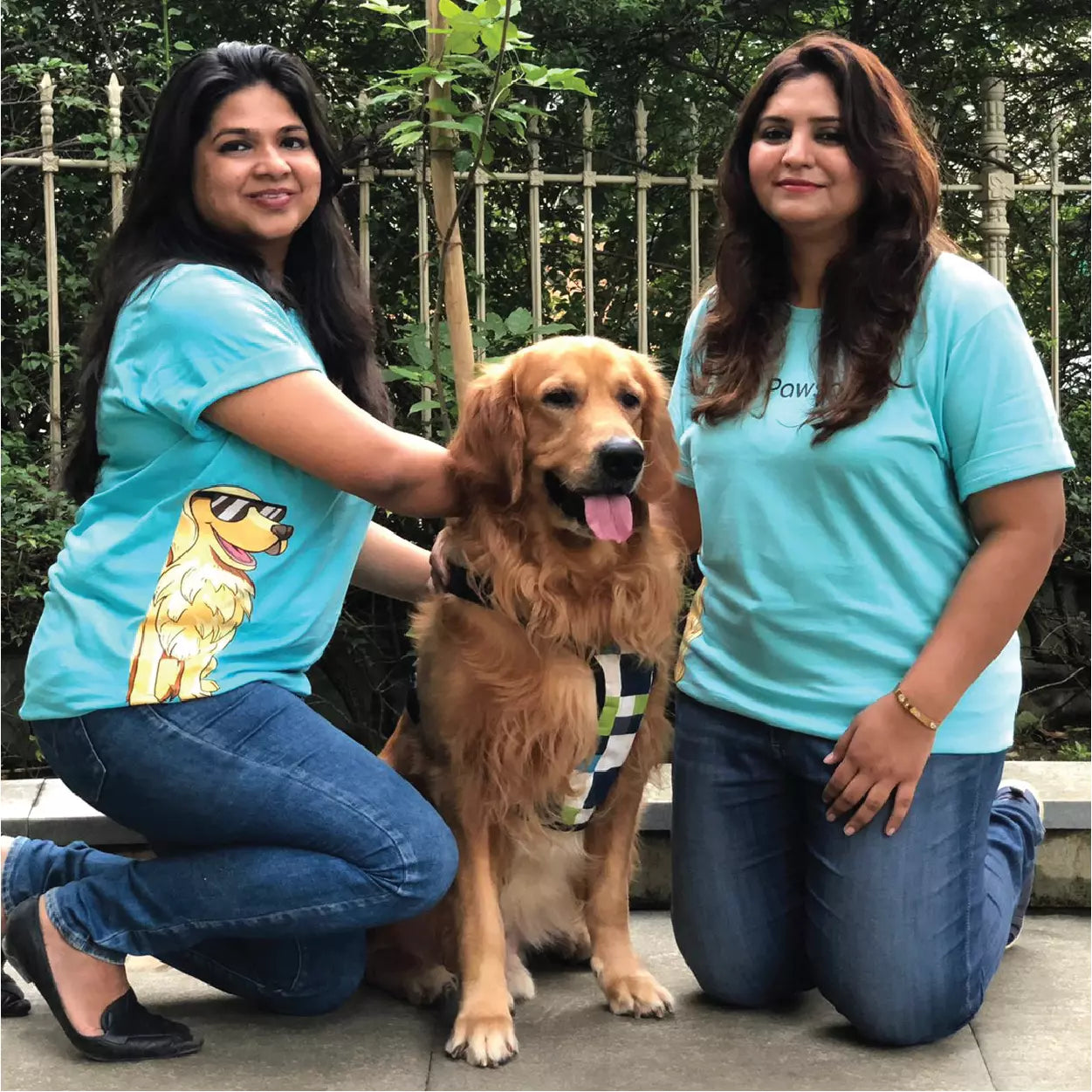 About Papa Pawsome
What started as a simple search for paw cream for Aurum, led to Pratik & Nishita building the Papa Pawsome brand, prompted by the lack of availability of an effective and safe paw cream in the Indian market for
his dear pet.
Know More